Celebrating 29 Years of Keeping Your Pets Healthy! The Natural Way!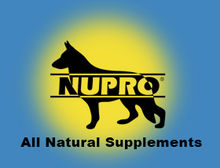 Four Muddy Paws is proud to carry Nupro in St. Louis, Missouri. Since 1989, we have been committed to helping your pets live healthier, happier, and longer lives! NUPRO® Supplement is a scientifically balanced formulas rich in essential Vitamins, Minerals, Amino Acids, Enzymes and Omega Fatty Acids. NUPRO® provides the necessary fresh, raw ingredients, often lacking in cooked and processed foods, with easily digestible whole foods, specially designed to condition your pets from the INSIDE-OUT!
Dog Supplements
NUPRO® Natural Dog Supplement, NUPRO® CUSTOM ELECTROLYTE FORMULA for DOGS, NUPRO® JOINT & IMMUNITY SUPPORT, NUPRO® LYFE-SPYCE®
Come visit our healthy pet market in St. Louis, MO! We offer professional pet grooming & a self serve dog wash and specialize in quality food, baked treats, & supplies for cats and dogs.