All of our bags are printed in the U.S.A. with all U.S.A. materials.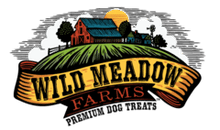 Four Muddy Paws is proud to carry Wild Meadows in St. Louis, Missouri. In 2011 Wild Meadow Farms began as a family-owned dog treat company located in Lancaster, PA. Our commitment to provide fresh and all-natural, all-U.S.A. dog treats was born out of a passion for quality food and the desire to keep production and sourcing here in the U.S.A. Wild Meadow Farms is a family business. It was started in an effort to make great treats for our dog. As a family, we enjoy sustainably-raised meat from local farms, milk from the local market, and vegetables from local road-side stands. What we eat is very important to us and we know you feel the same about your pet.
Dog Treats
Classic Chicken Bites, Classic Turkey Bites, Classic Beef Bites, Classic Duck Bites, Classic Lamb Bites, Classic Chicken Minis, Classic Turkey Minis, Classic Beef Minis, Classic Duck Minis, Classic Lamb Minis
Come visit our healthy pet market in St. Louis, MO! We offer professional pet grooming & a self serve dog wash and specialize in quality food, baked treats, & supplies for cats and dogs.